Former prosecutor of the Zaterechny district of Vladikavkaz, Olga Shvetsova, finished familiarizing herself with the case materials. According to the investigation, in 2012, she turned to the "authority" Aslan Gagiev (Dzhako) to kill the investigator of the Moscow Interdistrict Investigation Department for Transport Alexander Leonov. The reason is everyday conflict. Previously, Leonov was married to his sister Shvetsova and they had a very difficult divorce. The perpetrator of the murder was at that time the current police officer Ruslane Yurtov. This was the main cliller of the organized criminal group Jaco, who was responsible for a huge number of murders. At the disposal of Rucriminal.info were all the interrogation protocols of Yurtov, during which he describes in detail both his life and the murders committed. In the first publication, we first give his story about the execution of businessman Oleg Avlokhashvili in 2008. Before that, Dzhako's gang dealt with Oleg's brother Levon (more on this in the next publication), and buried his body in the forest. Levon was listed as missing, and Oleg conducted a search for him, achieved the initiation of a case and found out through his own channels that Dzhako could be involved in the crime. Gagiev found out about this and sentenced Oleg Avlokhashvili to death. We will also give Yurtov's testimony about how he got into Dzhako's gang.
"Around the fall of 2008, he does not remember the exact date, after a call from Nikolayev M.K., he drove his Nissan Almera classic car to the house of Bote (Gagiev O.S.), who at that time lived in a townhouse in cottage village "Edem". On the indicated car, he, "Bote" and Nikolayev M.K., under the control of the latter, drove around Moscow and were looking for a Toyota Camry car. At about 3 am, driving along one of the streets of Moscow, "Bote" sharply told M.K. Nikolaev. stop, explaining that he saw a black Porsche Cayenne that he wanted. "Bote" told M.K. Nikolaev. drove up to a Porsche Cayenne car and began to take out a weapon, a Scorpion submachine gun with a silencer and a magazine for 20 rounds from the bag. At the request of M.K. Nikolaev "Bote" took out of his bag and gave him a "Scorpion" submachine gun with a silencer and a magazine for 20 rounds, which Nikolaev M. put to his side, on the right side. He told M. Nikolaev and "Bote" that it was not worth shooting, as his car would "light up" on the murder, but they did not listen to him. Further, Nikolaev M.K. I drove up to the left of the Porsche Cayenne car and stood in parallel with it, at a distance of about 1 m - 1.5 m, after which I began to look who was in the driver's seat in it. Because of the heavily tinted windows on the Porsche, nothing was visible. However, the car was wound up. Nikolaev M.K. and "Bote" put on masks, they also gave him a mask. Bote told him to get out of the car, see if there was someone in the Porsche Cayenne car and showed his ID so that the car would not leave. He got out of the car, walked right up to the front of the Porsche Cayenne car, and showed his ID in his hand. The windshield was tinted, he only saw that a man was sitting behind the wheel in the cabin and apparently talking on a mobile phone, as there was a characteristic light. "Bote" did not get out of the car, then he saw how the rear right window of their car dropped (that is, the place where "Bote" was sitting) and a long automatic burst sounded from there. In surprise, he jumped to the sidewalk to the right of the Porsche Cayenne car, if you stand with your back to it. The Porsche Cayenne car stood for about 5-10 seconds, then drove forward obliquely to the left. "Bote" after several more times fired single shots from a pistol with a silencer. Thus, "Bote" fired the entire magazine with a submachine gun, using up about 20 rounds of ammunition, and fired at least 4 times with a PM pistol. After driving about 100 meters, a Porsche Cayenne car crashed into a tree on the side of the road. Nikolaev M.K. shouted to him to get into their car. Having approached the indicated Porsche Cayenne car on the right, a Bote ran out of their car from the left rear door with a pistol in his hands, similar to a pistol of the "PM" system with a silencer. Having run up to the driver's door of the Porsche Cayenne, Bote began to shoot through the glass at the car interior, tried to open the car doors, but they were apparently blocked. "Bote" ran around the car, continuing to shoot at its interior, ran to the driver's door and also fired several shots through the glass. In turn, Nikolaev M.K. rolled down their driver's door window and also fired about 20 rounds of rounds at the Porsche Cayenne car with a submachine gun. Further, Nikolaev M.K. shouted "Bote" obscenely: "Good let's go" and he returned to their car. After that they drove back to the Bote house. Further "Bote" and Nikolaev M.K. We got into the Land Cruiser 100 car and drove to the place where the Porsche Cayenne was shot; it stayed at the Bote's house. After a while they returned and said that the man in the Porsche Cayenne had been killed. The next day, he learned that a Georgian had been killed in a Porsche Cayenne car. He himself did not shoot this man. "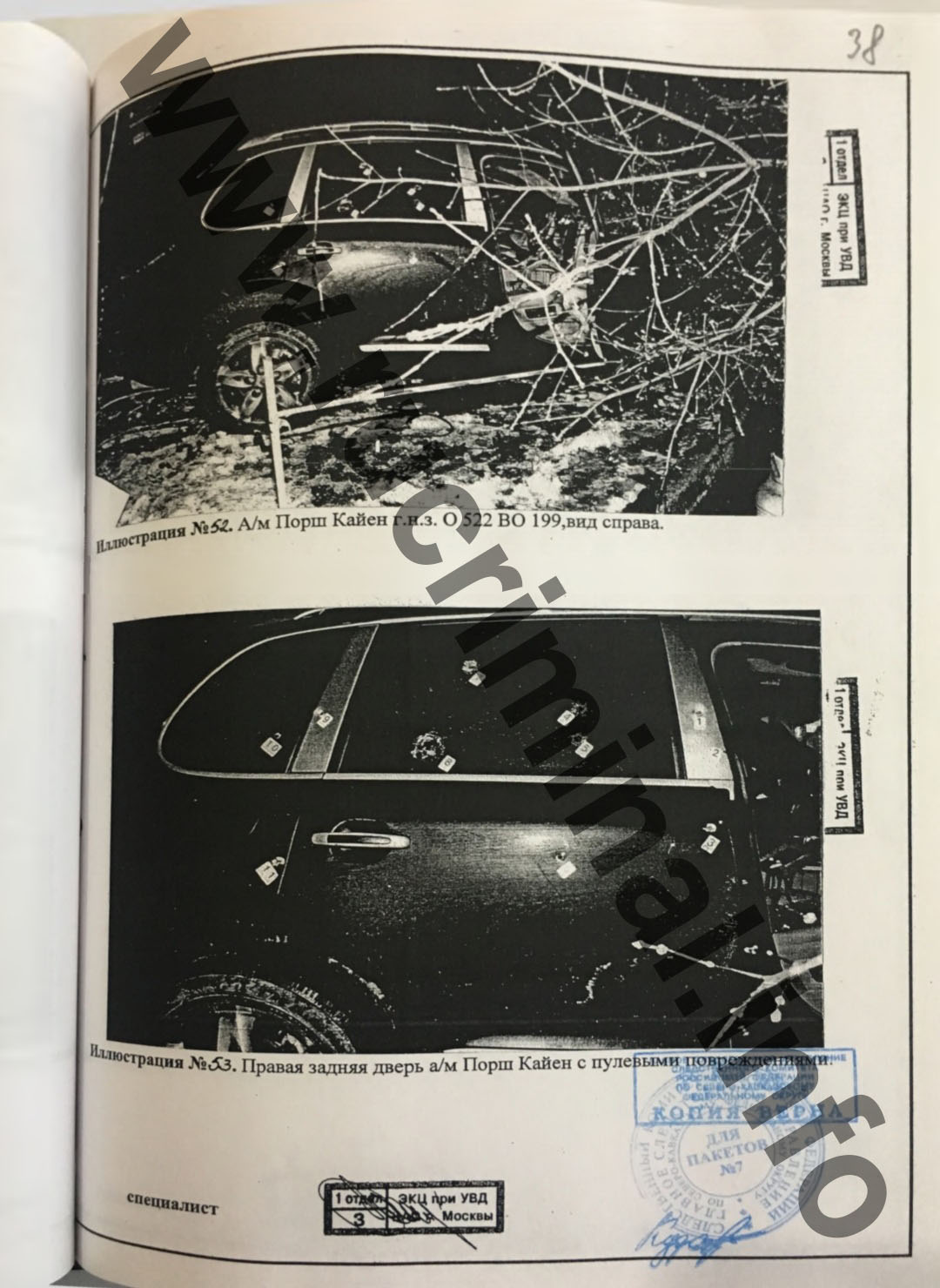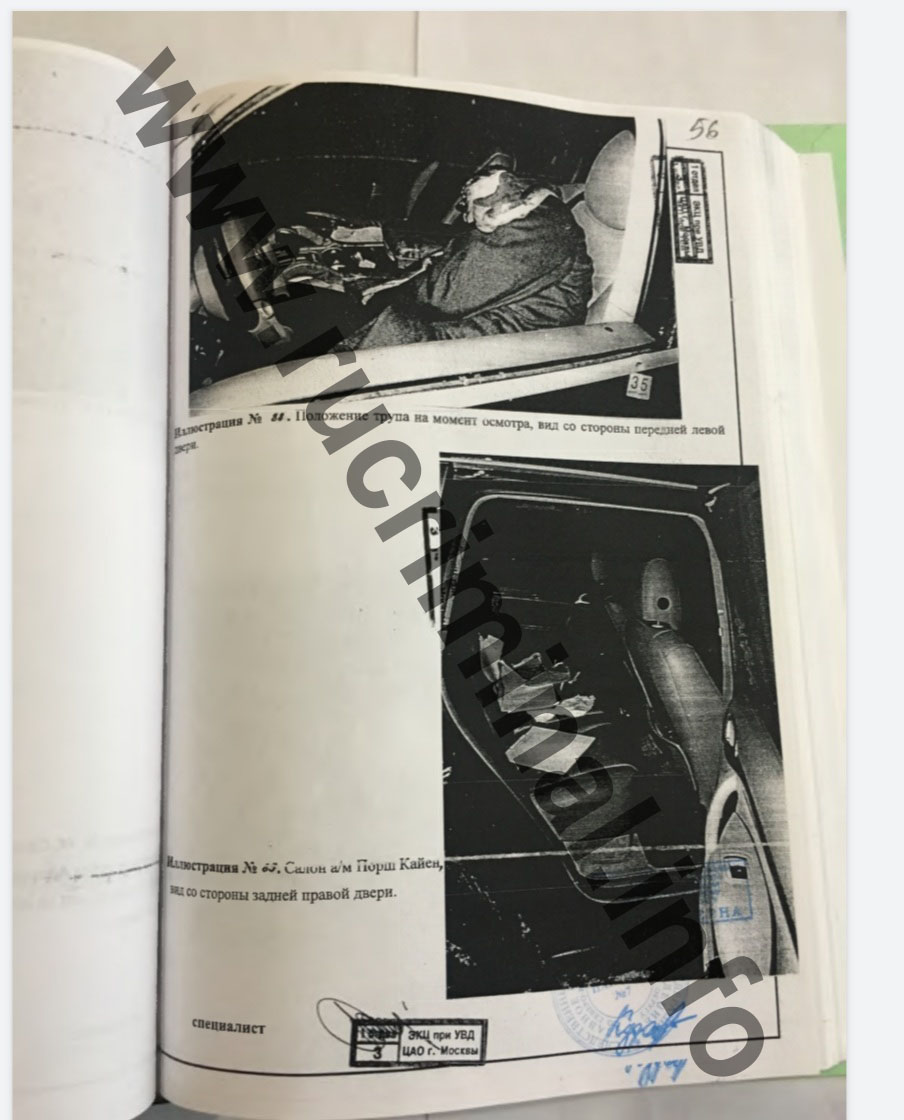 "Around the 20th of February 2007, Maxim Nikolaev called him, to whom he had previously asked for assistance in finding employment, and offered to come to a cafe located on Lodochnaya Street in Moscow. A day after the call, he arrived at the indicated cafe, and informed Maxim by phone. He asked to wait. Approximately 2 hours later, several men entered the cafe, as he later found out, they were M. Gobozov, S. Safronov, E. Yashkin, S. Beglaryan. nicknamed "Armenians", Staikhevich A.V. nicknamed "Stas", Omarov A.S. nicknamed "Rahim", Dudiy I.A. "Garik", O. Alymov nicknamed "Gypsy", Akhper, I don't know any other data. The last to come was Dzhioev A.B. nicknamed "Figure", Nikolaev M.K. nicknamed "Young" and "Pioneer" and Gagiev A.M. nicknamed "Brother" and "Jaco", who sat down at the table where he was sitting. Gagiev A.M. began to ask him data from his biography, found out whether he had an apartment, whether he had debts, asked about military service. I asked him if he knew how to shoot, to which he replied that he could, he fought, while he noticed that it was not difficult to shoot, it was difficult to answer for the result of the shot. Gagiev A.M. said that he would work in the police, before this meeting Nikolaev M.K. asked him if he would work in the police, he gave his consent. Thus Gagiev A.M. I told him to serve honestly, not take bribes, make a career, and he will help with this. Having learned that he has no money, Gagiev A.M. gave instructions to Dzhioev A.B. give out 25,000 rubles. Nikolaev M.K. he gave instructions to dress him in new clothes. Thus, there was his acquaintance with A.M. Gagiev. About who was A.M. Gagiev himself. he had no idea, he guessed that he was a very influential and rich man, and at that time he was glad that he was surrounded by him, was grateful to M.K. Nikolaev that he recommended him to A. Gagiev. did not explain to which organization he got, but he did not immediately understand. They went to Moscow on the Leningradskoye Highway to a friend of Nikolayev M.K., where they collected clothes for about 10,000 rubles, and bought sneakers for him at the Adidas store. Also Gagiev A.M. gave instructions to help him get a driver's license and go to study at a higher educational institution. Nikolaev M.K. gave him a mobile phone "Nokia-flashlight" with a SIM card, the subscriber number of which he does not remember, nor does he remember the cellular operator. This telephone had subscriber numbers of all the indicated persons, with the exception of A.M. Gagiev. Then, about 2 months later, M. Nikolaev replaced that phone, issued a new one. Then, at various intervals from 1 month to 3 months, the phones were replaced. There was no specific mobile operator. The number of subscriber numbers in the telephone book became less and less, then S.L. Beglaryan remained. and Nikolaeva M.K. He lived in the apartment of M.K. Nikolaev. on Udaltsova street, then on Profsoyuznaya street in the South-West district of Moscow. Then, approximately in September - October 2007, M. Nikolaev moved to another apartment, and he stayed in this one, where he lived until April 2009. In June-July 2007, he, together with M. Nikolaev, went to the Republic of North Ossetia in Vladikavkaz to submit documents for study. From March 2007 to September 2007, he did not have any specific duties, he could, together with M. Nikolaev, transport some documents from one place to another, he worked in the gym. In November 2007, he joined the Department of Internal Affairs for the Lomonosovsky District of the South-Western District of Moscow, first as a trainee, and then as a detective in the criminal investigation department. The process of entering the service was controlled by M.K. Nikolaev, who negotiated with the necessary people and coordinated it. By this time, in the summer of about June or July 2007, he had already received a driver's license. Beglaryan S.L. and Nikolaev M.K. gave him a VAZ 2109 car, the year of production, state registration plates, he does not remember. "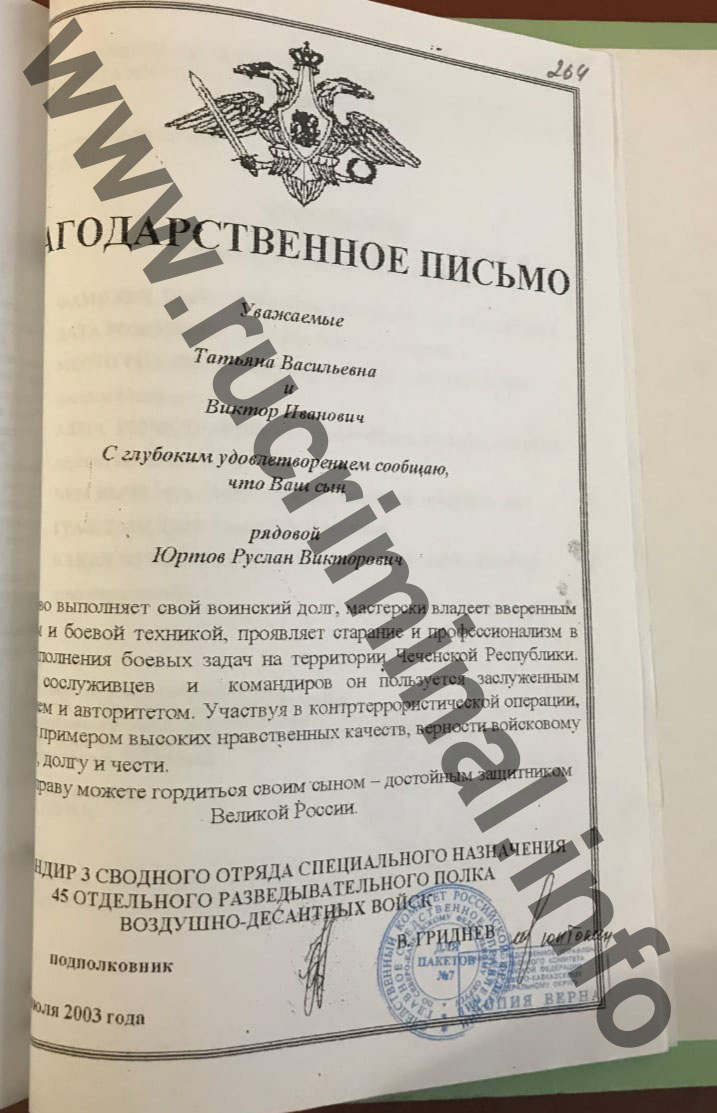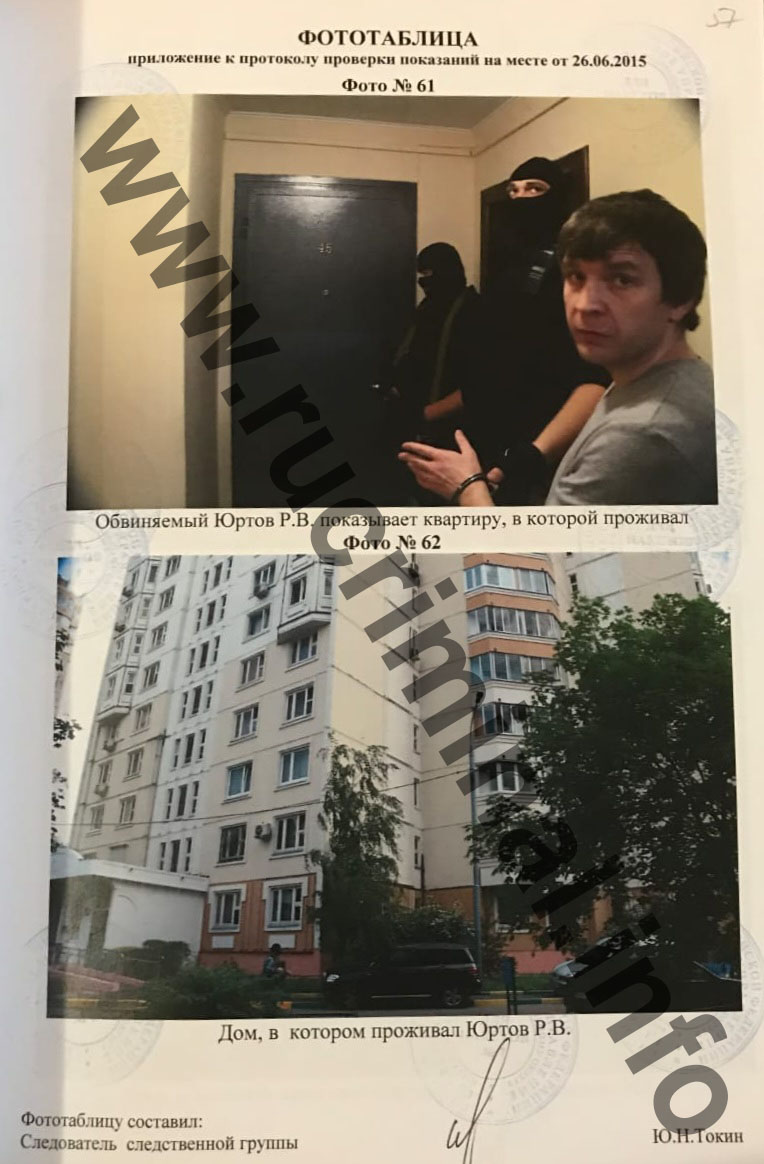 To be continued
Arseny Dronov